In recent years, alkaline water has seen a surge in popularity among health-conscious consumers seeking hydration with added benefits. With its elevated or natural pH levels and added minerals, alkaline water is prized for its purported powers to neutralize acidity, improve bone health, boost immunity, and more.
As demand has grown, so have the number of brands offering premium alkaline waters to suit different tastes and needs. The alkaline water market has expanded rapidly, with new players vying for attention.
But with the hype and crowded field of alkaline water options, how do you decide which brand to trust? We've compiled this definitive guide to the 17 best alkaline water brands of 2023 to help you make your purchase decision.
We've broken down everything you need to know about the top brands leading the alkaline water space by closely evaluating all aspects of these leading companies-from pH, water source, and taste to sustainability efforts. Read on for the complete lowdown on the standout waters that have risen to the top.
Why alkaline water?
Before we dive into the top brands, let's take a quick look at the reasons for alkaline water's growing popularity.
What sets alkaline water apart is its higher pH level compared to regular drinking water. The pH scale ranges from 0 to 14, with 0 being extremely acidic, 7 being neutral, and 14 being extremely alkaline. Regular tap water generally has a neutral pH of about 7.
However, alkaline water has a pH of 8 or higher, meaning it's more basic than acidic. This increased alkalinity is achieved by higher concentrations of minerals such as calcium, magnesium, potassium, carbonate, bicarbonate and silica, which act as natural pH buffers.
The higher pH of alkaline water is said to help neutralize acidity in the body that builds up from poor diet, stress and environmental toxins. Acidity has been linked to several health problems.
Proponents claim that drinking alkaline water can correct pH balance, promote hydration, remove toxins, and prevent disease. Some key purported benefits include
Improved hydration and nutrient absorption
Improved bone density and muscle function
Decreased inflammation and oxidative damage
Enhanced immunity and energy levels
General detoxification and anti-aging effects
While research is ongoing, early studies suggest that alkaline water may offer benefits for hydration, blood pressure, weight control, diabetes, bone health, and more compared to standard water. However, not all alkaline waters are equal and have the same effect. Some of them are naturally alkaline, some are made by adding minerals. Some of them are working as acid base buffers because of high bicarbonate levels, some are alkaline because of other mineral content. This means, that the effect on health can be also slightly different despite the high pH levels.
Let's examine some of the key brands looking to capitalize on the growing demand.
The 17 Top Alkaline Water Brands of 2023
1. AQUALAR pH9+
Natural pH level: 9.4
Water Source: Artesian mountain water from 425m depth
Taste: Hint of sweetness, smooth, round, light.
Other Details: Very rich in Silica the beauty mineral H2SiO3=85mg/l
AQUALAR pH9+ Natural Mineral Water from Bulgaria has an extremely high pH of 9+ making it one of the most alkaline natural waters available, and its low mineral content and hint of sweetness give it an exceptionally light and smooth taste. The water's unique mineral composition provides health and beauty benefits like cleansing kidneys, stimulating collagen production, strengthening immunity, and neutralizing lactic acid for athletes.
2. AIRY pH10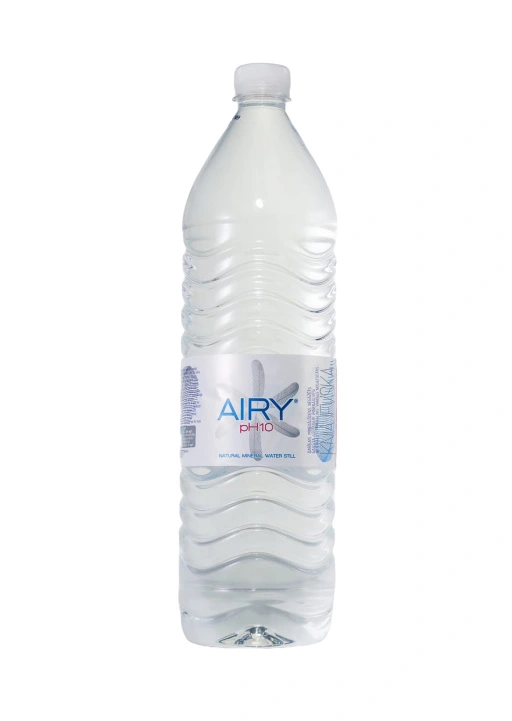 Natural pH level: 10
Water Source: Artesian spring water from 700m depth
Taste: Light, refreshing, round
Other details: The most alkaline natural low minerality mineral water in the world, rich in Silica the beauty mineral H2SiO3=28mg/l.
AIRY pH10 Natural Mineral Water is the world's most alkaline water with a pH of 10, and its incredibly light and airy taste from a low mineral content makes it easy and enjoyable to drink in large amounts. Sourced from a 700m deep deposit in Bulgaria, AIRY's rare mineral composition high in silicon offers unique health and collagen-boosting beauty benefits.
3. Essentia Ionized Alkaline Water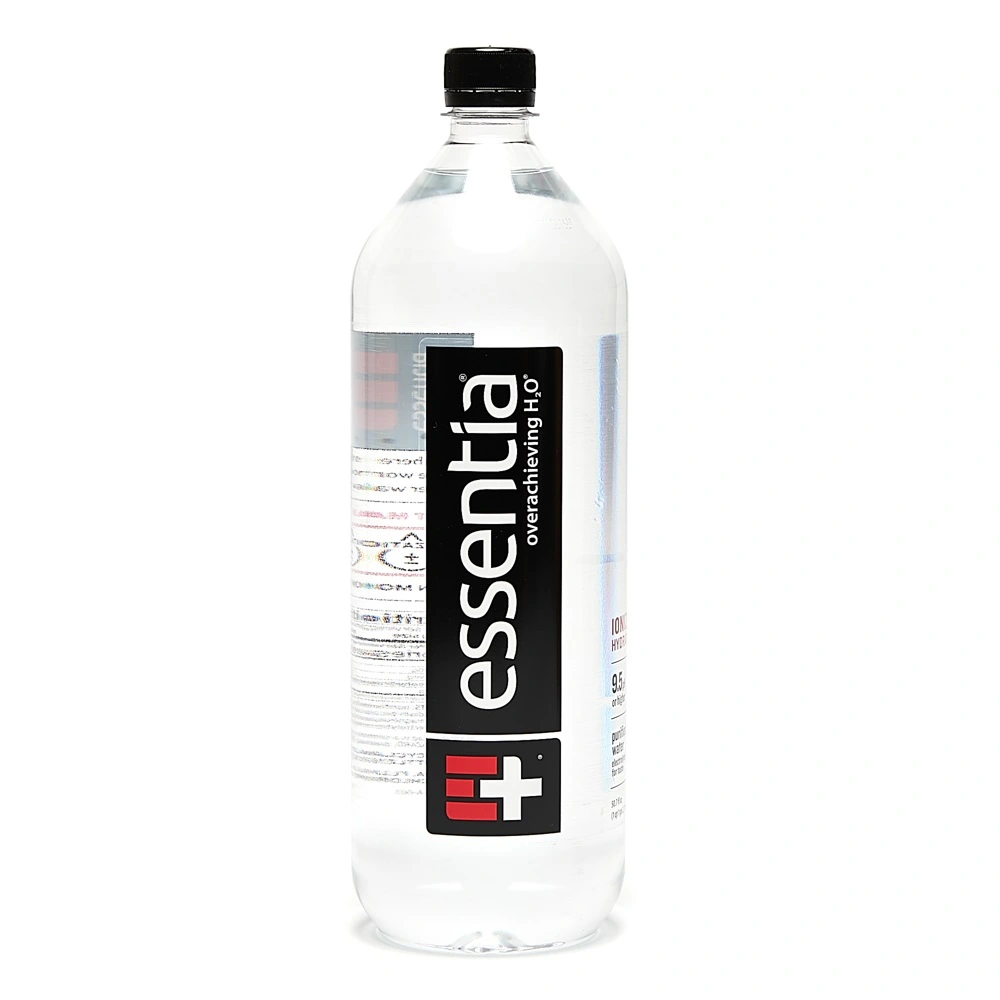 pH level: 9.5 or higher
Water source: Purified by ionization
Taste: Crisp, clean
Other Details: Electrolytes added, marketed to athletes
Essentia is a prominent leader focused exclusively on alkaline water, marketed heavily toward fitness and performance. Through a proprietary ionization process, Essentia achieves extreme alkalinity with a pH of 9.5 or higher, among the highest available.
Competitive athletes often prefer Essentia for optimal hydration and energy delivery. With added electrolytes and a clean, pure taste, it's a great choice for those seeking maximum alkalinity.
4. SmartWater Alkaline 9+ pH Water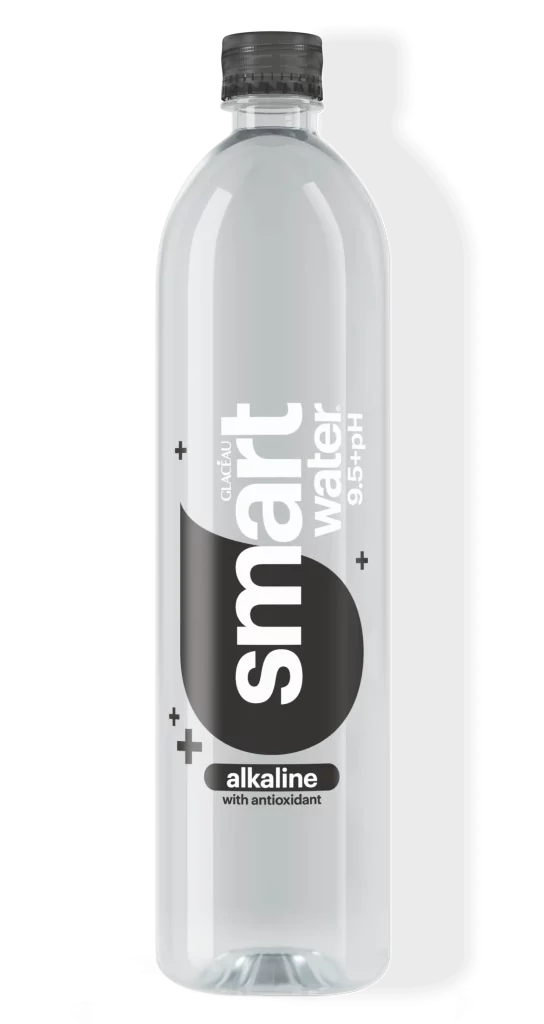 pH level: 9+.
Water Source: Purified
Taste: Smooth, crisp
Other Details: Added electrolytes, wider bottle mouth
From the great brand SmartWater, this alkaline water checks all the boxes. With a pH of 9+, it delivers premium alkalinity. Purified by reverse osmosis and fortified with electrolytes, it has a crisp, smooth taste that's great for hydration during sports and exercise.
The wider bottle mouth makes it easy to drink on the go. Owned by Coca-Cola, it is widely available in stores, health clubs and online.
5. Icelandic Glacier Natural Alkaline Water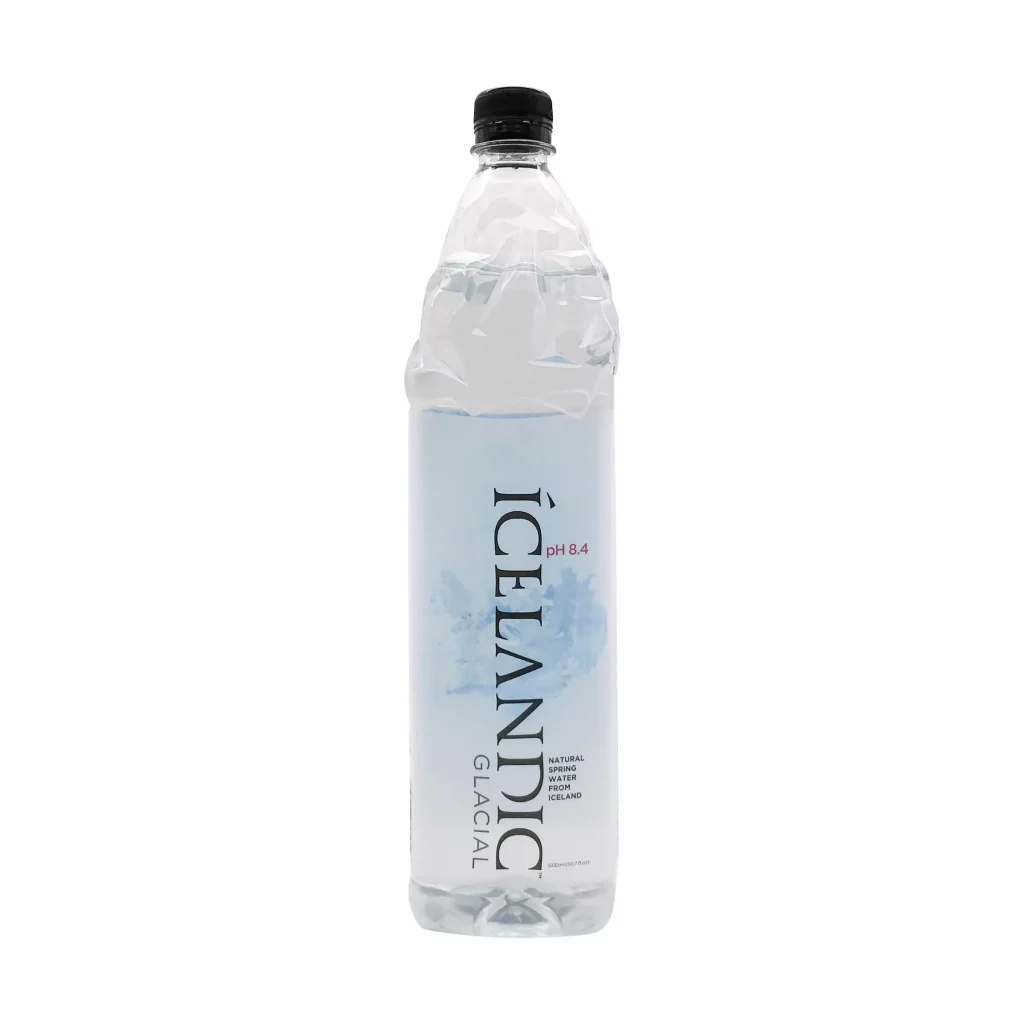 pH level: 8.4
Water Source: Natural spring water from Iceland
Taste: Cool, crisp, light
Other details: Sustainably sourced
For naturally alkaline glacier spring water from Iceland, Icelandic Glacial is second to none. With a naturally occurring pH of 8.4, it's a renowned premium alkaline brand.
Sourced from the Olfus spring fed by ancient Icelandic glaciers, it's ultra-pure with bioavailable minerals for a light, cool taste. The plant is powered by geothermal and hydroelectric energy for sustainability.
6. BodyArmor SportWater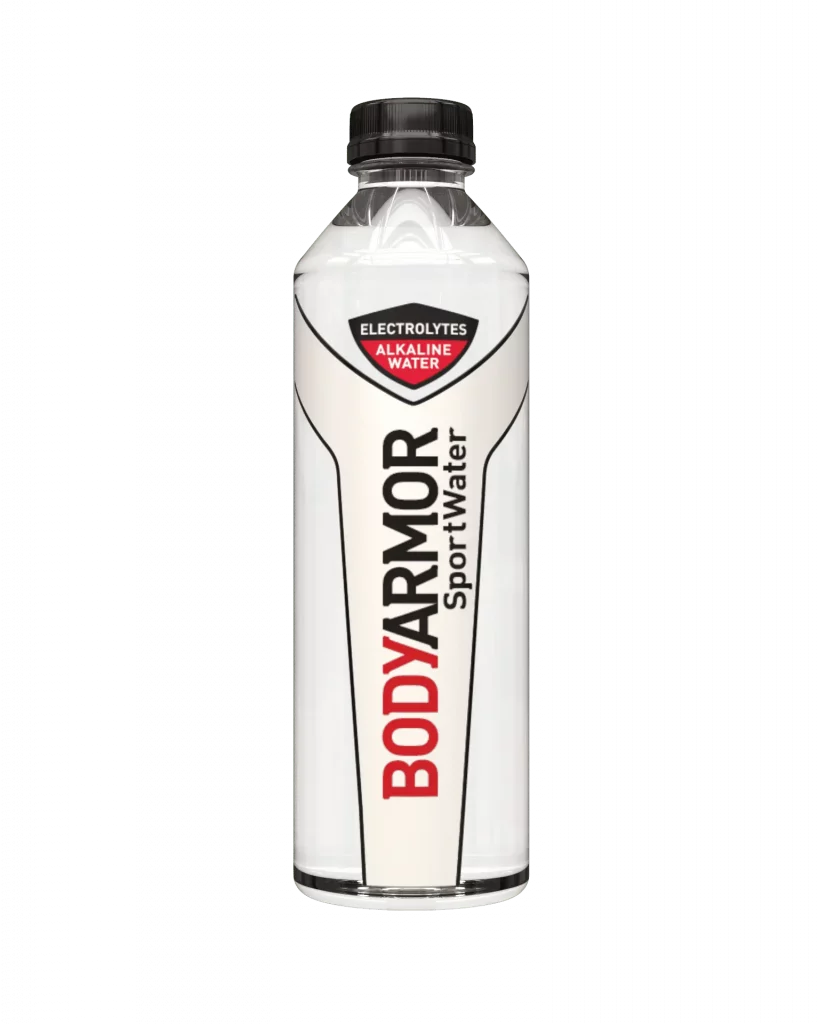 pH level: 9.0
Water Source: Purified water
Taste: Crisp, clean
Other Details: With Coconut Water & Electrolytes
BodyArmor SportWater combines purified alkaline water with coconut water. It delivers a pH of 9.0 along with electrolytes and minerals from coconut water sources. The taste is clean and crisp.
First developed by professional athletes looking for a superior sports drink, it aims to excel in hydration during physical activity and exercise.
7. TEN Spring Water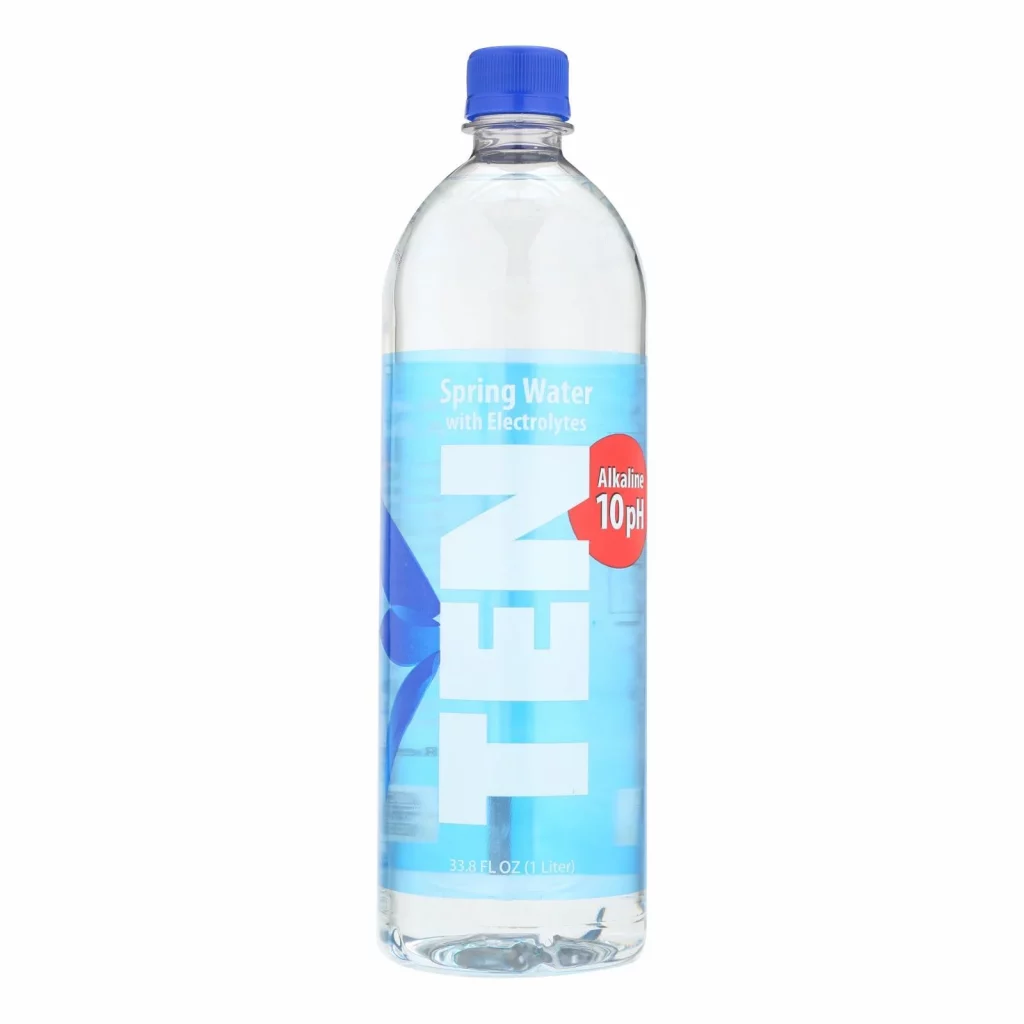 pH level: 10
Water Source: Natural spring water
Taste: Smooth, delicious
Other details: Rich in electrolytes
With a sky-high pH of 10, TEN Spring Water provides exceptional alkalinity. It is naturally sourced from springs in the Appalachian Mountains. It is also rich in naturally occurring electrolytes and minerals for great hydration and taste.
TEN uses 100% recycled plastic bottles as part of its sustainability initiatives. For spring water with top-notch pH levels, TEN is an excellent choice.
8. Good & Gather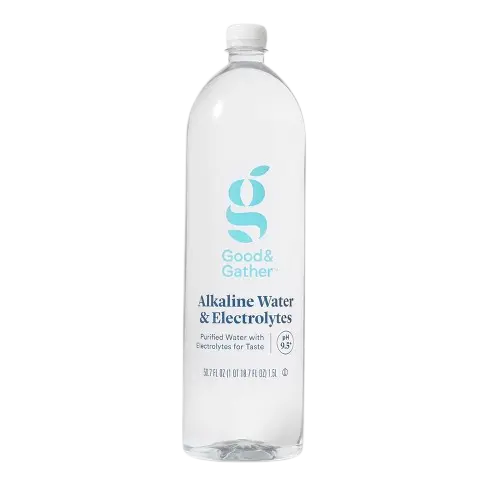 pH level: 9.5+
Water Source: Purified
Taste: Clean, refreshing
Other details: Budget-Friendly Option
As Target's in-house brand, Good & Gather is an affordable, purified alkaline water available at Target locations nationwide. With a pH of 9.5+, it provides significant alkalinity.
The value-oriented price point of under $1 per bottle makes it a great entry-level option. For alkaline water on a budget, Good & Gather delivers.
9. Phure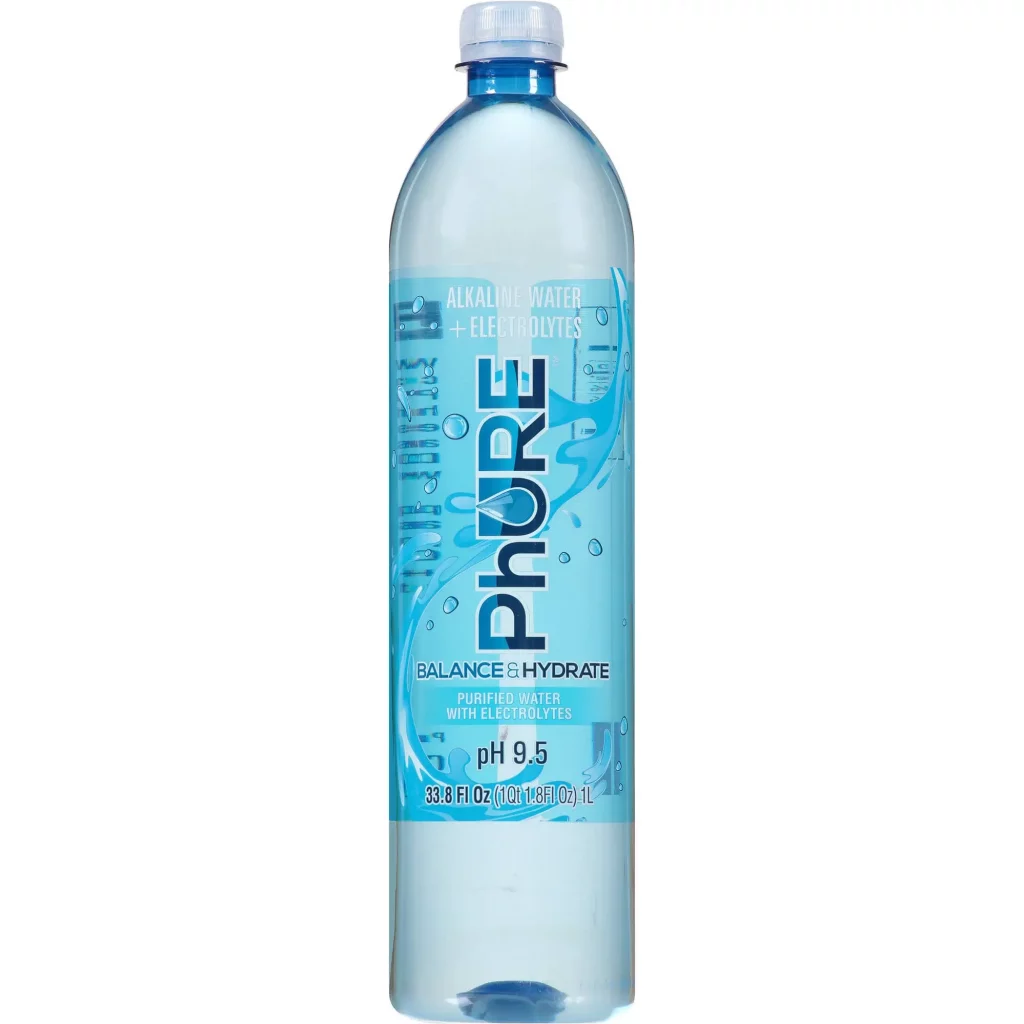 pH level: 9.5
Water Source: Purified
Taste: Mildly sweet
Other Details: Added Electrolytes & Minerals
Pure Alkaline Water undergoes a 9-step filtration process before an innovative blend of electrolytes and over 70 Himalayan salts and minerals. This achieves a sky-high pH of 9.5 along with a smooth, mildly sweet taste.
Pure strives for ideal pH balance and superior hydration. The strategic mineral additions also give it a unique flavor profile.
10. Lifewater

pH level: 9.5
Water Source: Purified
Taste: Crisp, clean
Other Details: Artist-designed bottles
Under PepsiCo, Lifewtr is their premium purified and pH-balanced alkaline water brand with an alkalinity of 9.5. It adds a proprietary blend of electrolytes and trace minerals for a crisp, clean taste.
Each batch features limited-edition, artist-designed bottles to showcase emerging creative talent. It is widely distributed in grocery/convenience stores and online.
11. AQUAhydrate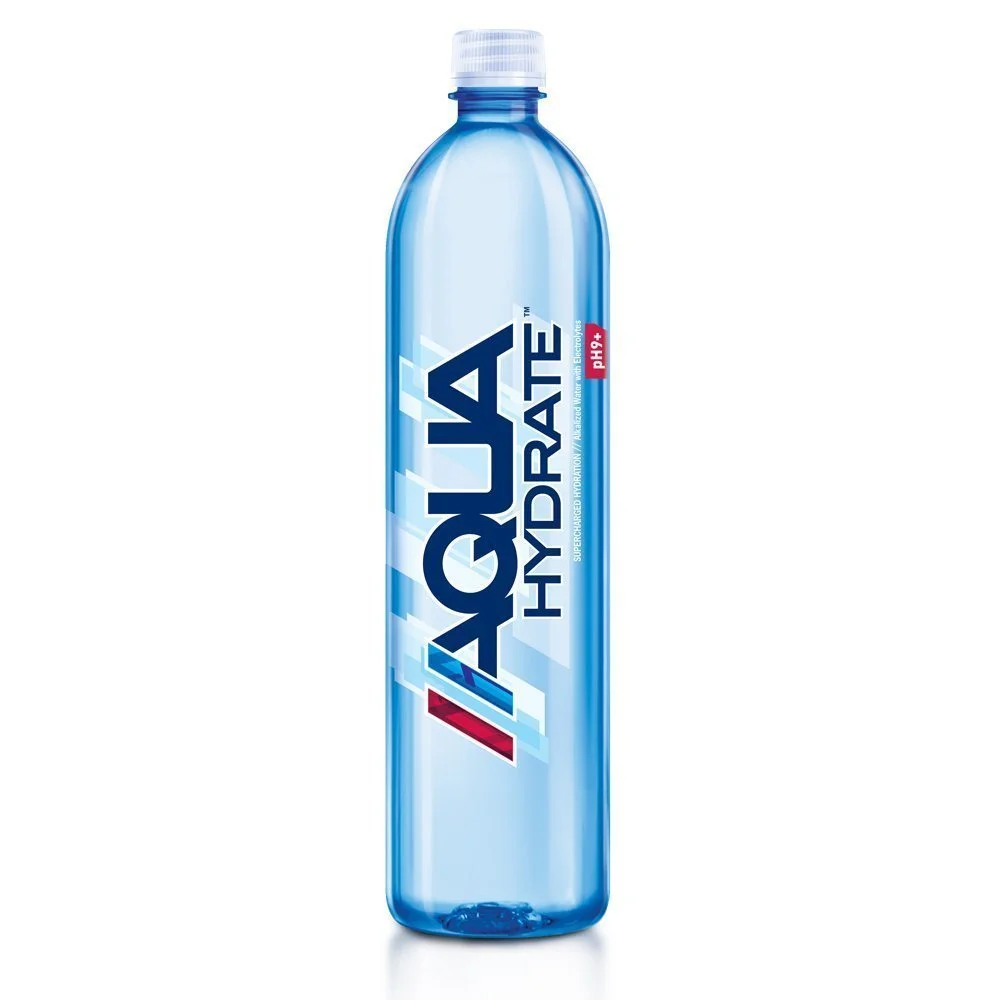 pH level: 9+.
Water Source: Purified
Taste: Refreshing, crisp
Other Details: Added electrolytes & minerals
With celebrity investors like Mark Wahlberg and Sean "Diddy" Combs, AQUAhydrate touts high performance. A 7-step filtration process raises its pH to 9+ before adding electrolytes and 72 trace minerals for a refreshing, crisp taste.
The result is an ultra-hydrating alkaline water that aligns with AQUAhydrate's active, health-conscious branding for athletes and busy lifestyles.
12. Evamor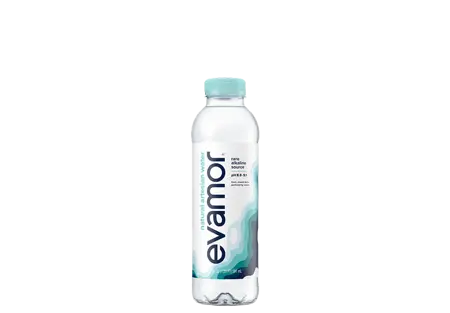 pH level: 8.8
Water Source: Natural Florida artesian spring water
Taste: Smooth, light
Other Details: Sustainably sourced
Sourced from a rare, ancient artesian spring in Florida, Evamor contains naturally occurring electrolytes and minerals for its signature light, refreshing taste and 8.8 pH.
Evamor is committed to sustainability, using 100% recyclable PET bottles and partnering with environmental organizations that promote water conservation.
13. Flow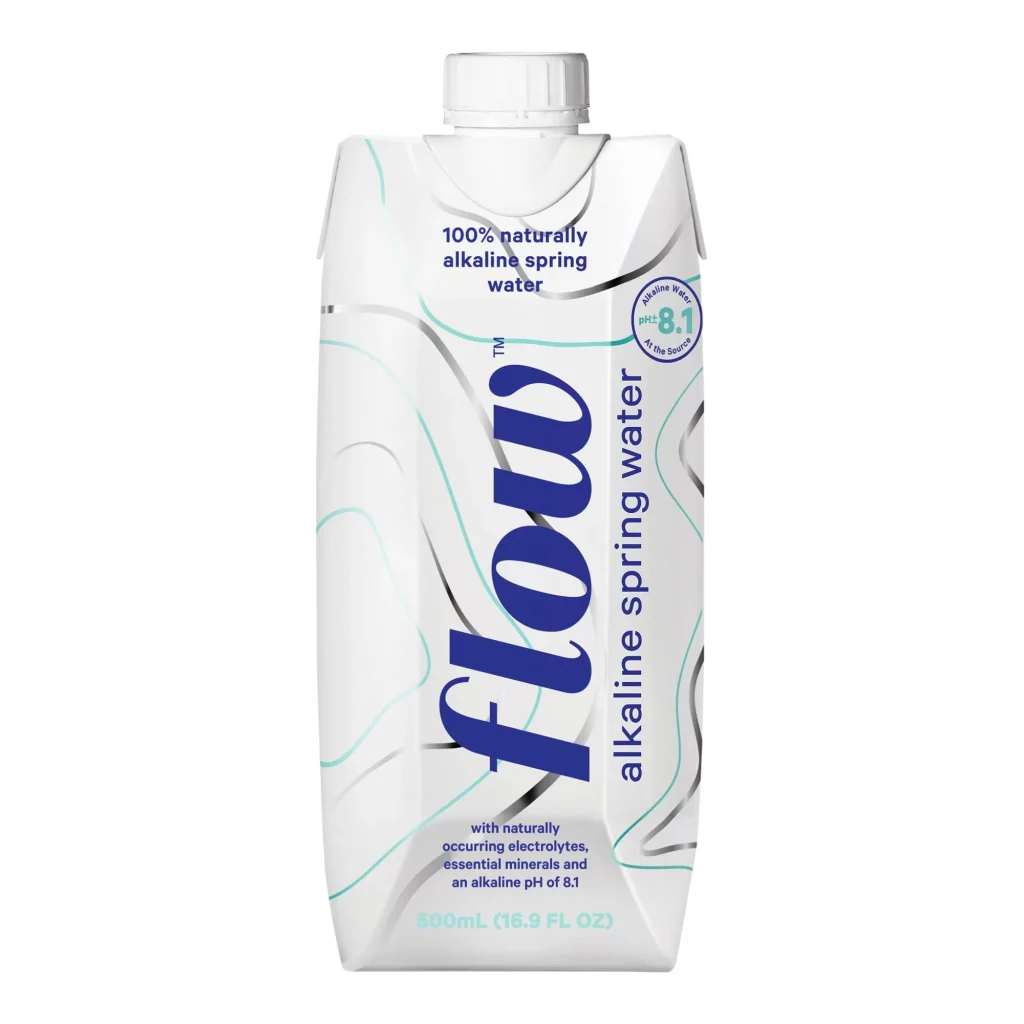 pH level: 8.1
Water source: Natural artesian alkaline spring
Taste: Crisp
Other Details: Natural flavors including lemon, strawberry, cucumber
Sourced from Flow's own artesian spring in Oregon, Flow comes from a 295-foot deep alkaline aquifer and is bottled directly for its eternally flowing 8.1 pH water.
Natural flavors such as lemon, strawberry, and cucumber are added to some varieties for a crisp, subtle taste. The iconic spring has been flowing for over 315 million years.
14. Eternal Natural Alkaline Spring Water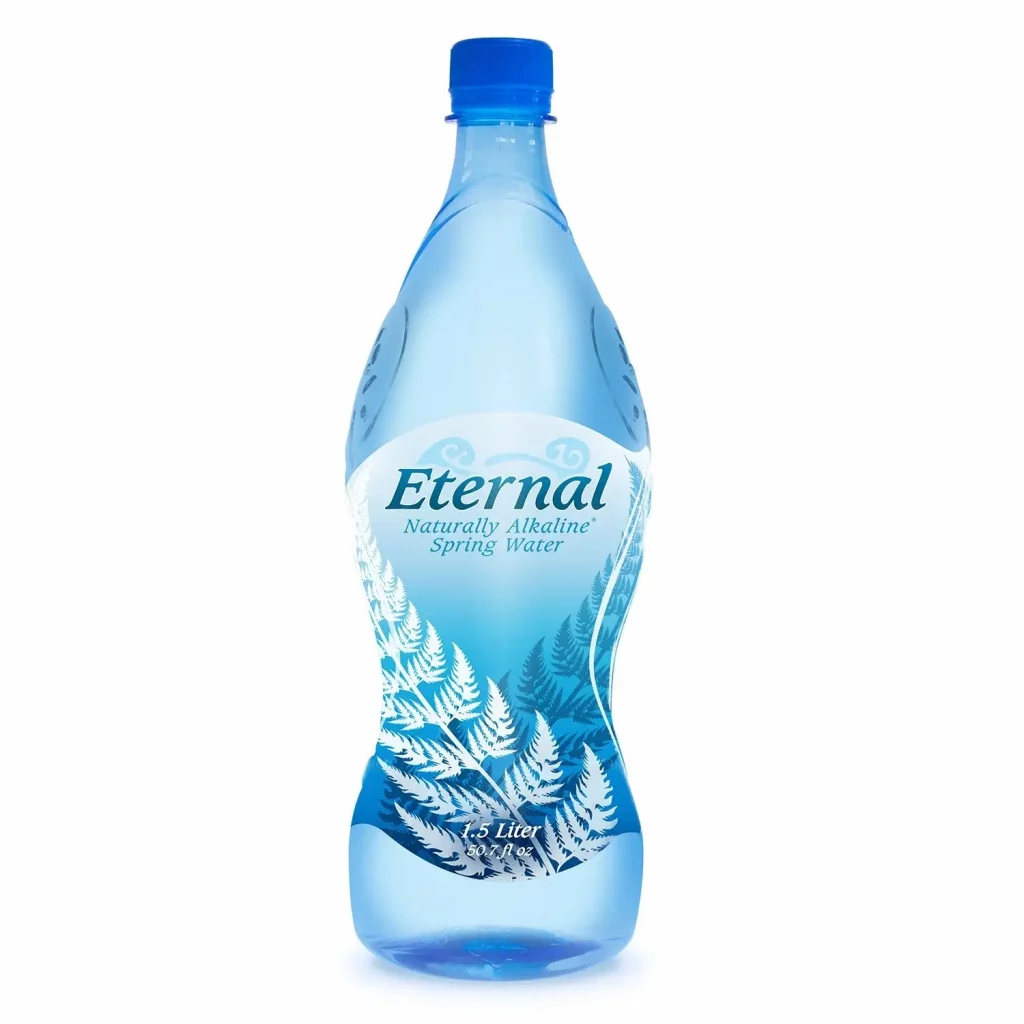 pH level: 8.2
Water Source: Natural artesian springs
Taste: Smooth, soft
Other details: Sustainably sourced
Eternal draws its naturally alkaline water directly from protected artesian springs in Northern California and Southern Oregon, with a pH of 8.2. It is rich in natural minerals and electrolytes for a soft, smooth mouthfeel.
Eternal uses 100% recycled plastic bottles as part of its sustainability initiatives to conserve water.
15. Core Hydration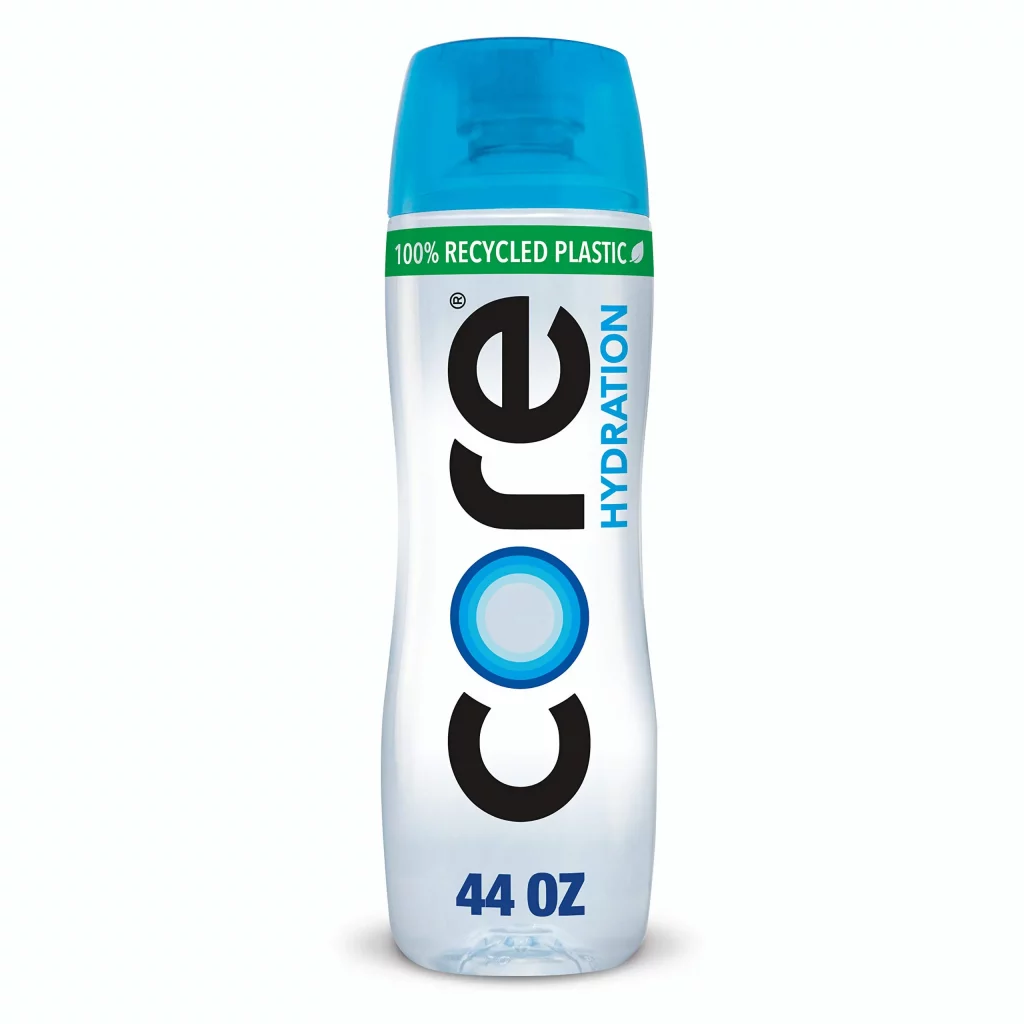 pH level: 7.4
Water Source: Purified
Taste: Crisp, clean
Other Details: Unique bottle design
Though lower in alkalinity with a pH of 7.4, Core still provides purified alkaline water with added minerals and electrolytes. Its contoured, wide-mouth bottle makes it easy to drink on the go.
Owned by Keurig Dr. Pepper, Core offers an accessible alkaline water available at major retail chains, gyms, convenience stores, and online.
16. Alkaline88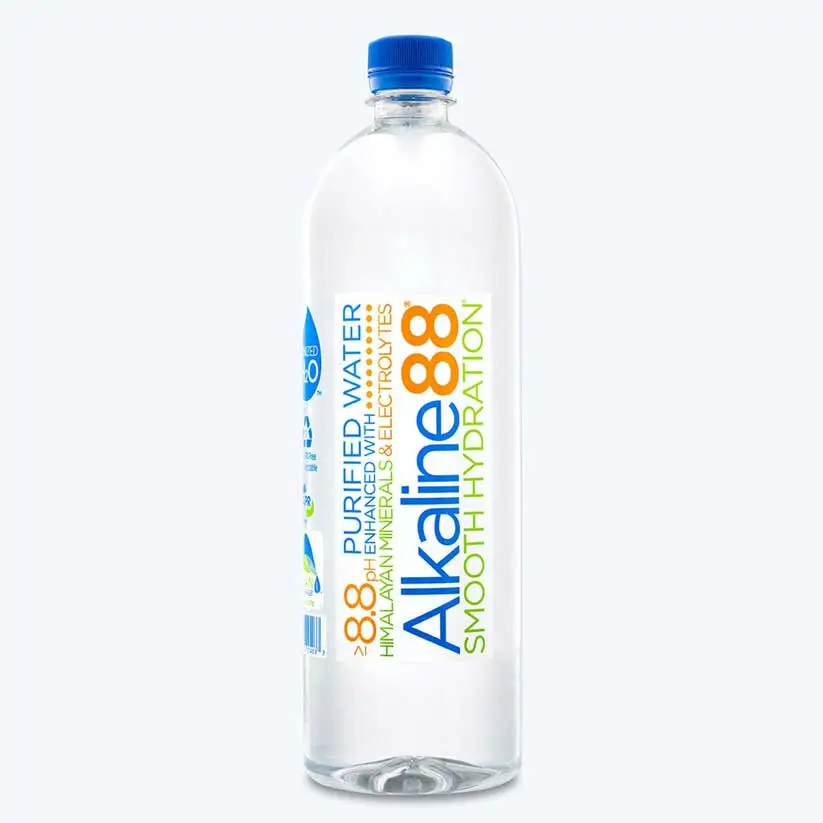 pH level: 8.8
Water Source: Purified
Taste: Smooth, delicious
Other Details: Himalayan minerals added
Alkaline88 undergoes an extensive 8-step purification process before being fortified with Himalayan rock salts and alkaline minerals for its trademark 8.8 pH and smooth, delicious taste.
17. Just Water Alkaline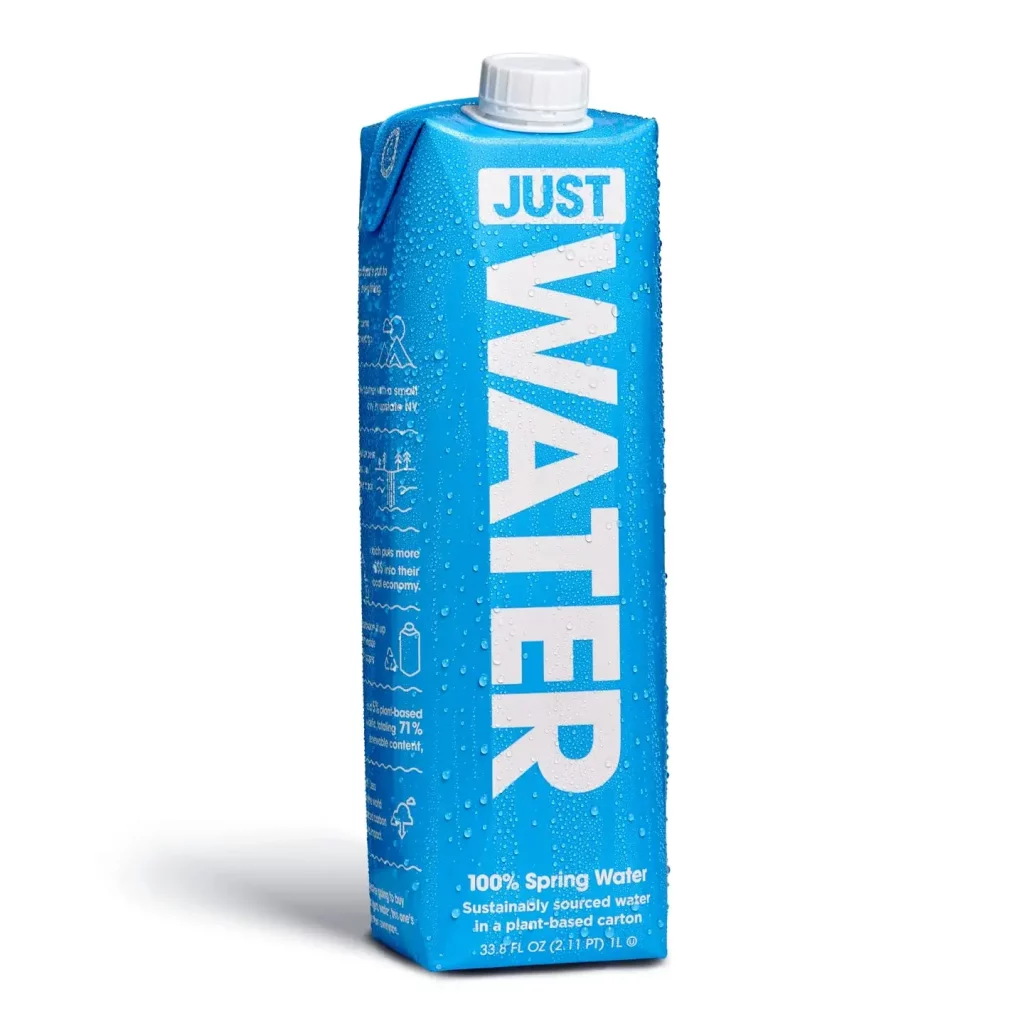 pH level: 9.0
Water source: Purified
Taste: Clean, crisp
Other Details: 100% renewable, plant-based packaging
Through a rigorous 7-step filtration process, Just Water achieves an alkaline pH of 9.0. They focus on sustainability by using 100% renewable plant-based packaging. The taste is clean and crisp.
What to look for in the best alkaline waters
Now that you're familiar with the top brands, here are some key factors to evaluate when choosing the ideal alkaline water for your needs:
pH level – The higher the alkalinity, look for a minimum pH of 8.0 or higher. Maximum pH goes up to 10.
Water Source – Natural water from springs has a naturally higher pH. Purified waters have added alkalinity.
Taste – Preference for sweet or sour. Some have added minerals and electrolytes.
Sustainability – Reputable brands use renewable energy and recyclable or recycled packaging.
Price – Prices range from under $1 to $5+ per bottle. Higher cost doesn't mean higher quality.
Accessibility – Check for local store availability as well as online ordering/subscription options.
Your Needs – Factors such as sports hydration, heartburn relief, immune support, etc.
Focus on your personal preferences such as naturalness, taste and sustainability along with your specific health needs to find the optimal alkaline water brand for you. And remember to drink alkaline water as part of an overall balanced diet and lifestyle. In the PickAqua app, you can compare up to any 10 waters worldwide at once using the comparison function, placing them side by side and comparing mineral compositions for your perfect choice.
The Future of Alkaline Water
As scientific research on the potential benefits of alkaline water continues to emerge, its popularity is expected to continue to grow.
Trends such as functional alkaline waters targeting specific health areas, new sustainable packaging innovations, and alkaline water dispensers in more locations will continue to drive market expansion.
While the underlying science remains controversial in some circles, the skyrocketing demand for premium alkaline waters shows no signs of slowing down anytime soon.
Taste the Best Brands for Yourself
Hopefully, this guide has provided some keen insights to help you make your alkaline water choices. With knowledge of the top brands, you can look for high pH from trusted companies that match your preferences.
Try a few of the top options to find your favorites. Just be sure to drink alkaline water in moderation as part of a balanced diet and lifestyle. Stay hydrated and improve your health with the leading brands of alkaline water!
We recommend getting acquainted with step-by-step detailed recommendations of how to navigate your choice, an article that will help you correctly evaluate your daily choice. Three steps – how to choose water correctly.
What is the best alkaline water brand?
A top choice is AQUALAR pH9+. This brand is a Natural Mineral Water with a pH of 9.4 with a smooth, crisp taste. AQUALAR pH9+ expertly balances alkalinity and taste in their alkaline water. Reviewers praise it for its pleasant mineral mouthfeel. AQUALAR pH9+ is available online and in grocery stores, making it a premium alkaline water worth trying.
How much alkaline water should I drink daily?
There are no official guidelines, and the main guideline should be the TDS (Total dissolved solids). For a daily water choice a TDS should be in light minerality range, meaning a TDS around 500mg/l. Drink alkaline water in moderation throughout the day and focus on how you feel to determine the right amount for you.
Does alkaline water work better than plain water?
Several studies have found that alkaline water has health-enhancing effects, but they are not always linked to a higher pH value, but rather to the mineral composition of the water itself. This means that not in all cases the higher the pH, the better. However, more research is needed. The health-giving potential of water cannot be judged by focusing only on pH. Many factors have to be evaluated, the nature, the composition, that is, the amount and combinations of micro and macro elements. For most people, the key is simply to stay well hydrated, whether through regular or alkaline water.
Should I drink alkaline water with meals?
Most nutritionists recommend drinking alkaline water between meals rather than with meals. Drinking alkaline water with acidic foods, such as fruit juice or wine, can reduce the nutritional value of the food. It's best to drink alkaline water when your stomach is empty. However, the effect is likely to be minimal, so this is more of a guideline than a rule.