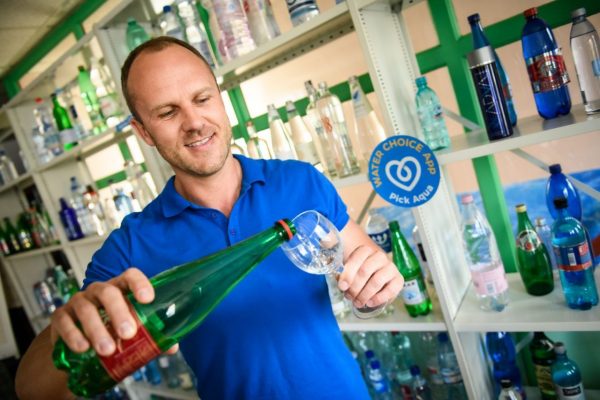 "The Art of Water Choice" is an online course that is dedicated to helping you learn how to choose the most suitable water for your needs. Water is an essential part of our daily lives, yet most people have no idea how to choose the right kind of water for their health. Drinking the minimum recommended amount of 2l is just as important as the mineral composition of the water, its purity, and the drinking technique itself, to achieve maximum hydration of the body from the inside.
In this course, the top expert in the field of water choice, Water Sommelier Dan Volevah will guide you through the process of selecting the best quality water that is tailored to meet your specific needs. This course is perfect for anyone who is health-conscious and desires to optimize their overall health and well-being.
Water is the most mysterious substance in the entire universe.
"During our lifetime we drink about 50 thousand liters of water, and our body is the filter of this water. The water's mineral composition and overall quality play a major role." Dan Volevah


There is also a shortcut, by connecting directly with our specialists and receiving a personal consultation on water choice that is available in your country. Don't hesitate to connect with us.
We believe that the human body thrives on the right chosen water, and at "The Art of Water Choice", we are dedicated to helping you achieve it.
Through a series of eye-opening modules, you will learn about the types of bottled water on the market, their benefits, and the essential factors required to make informed purchasing decisions based on your unique needs. We'll teach you the basics, like how to understand water labels and the benefits of any water, as well as the more nuanced aspects such as how to pick water according to your lifestyle and dietary needs.
Our course provides you with a comprehensive roadmap to becoming an expert in the art of choosing water. By the end of the program, you'll be able to confidently identify and purchase the highest quality water that is optimal for your health and lifestyle.
The benefits of consuming high-quality water are endless. Making conscious choices and drinking the right kind of water can significantly improve your immune system, and sports performance, boost energy, improve digestion, and improve overall health.
Enrolling in "The Art of Water Choice" is a no-brainer if you strive to achieve the best possible health outcomes. The course provides you with a unique opportunity to learn from experts in the field and to gain actionable knowledge that can revolutionize how you consume water moving forward.
Don't miss out on this opportunity. Start your journey towards optimal health today, because you drink water every day – enroll in "The Art of Water Choice now!"
Water Sommelier Dan Volevah in Talent Show "The Brain"